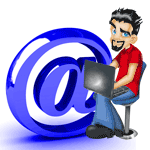 Are you getting your Outlook emails stuck in your Outbox after upgrading to Windows 10? I've seen this happen on several machines and it really seems to be a problem where Windows corrupts the Outlook database and/or profile on many versions of Microsoft Office (2007, 2010 and 2013). The easiest fix and one that I'd recommend here is to delete or move the stuck emails then close all programs that are open such as Outlook.
Now we can use the in-built Windows "System File Checker" that will scan your PC and repair any corrupt files that it finds. To do this:
Click Start
Type cmd in the Search box
Right-click Command Prompt and then click 'Run as administrator'. If you are prompted for an administrator password or for a confirmation then type the password or click 'Allow'
In this black window (the command prompt) that appears, type in sfc /scannow noting the space before the forward slash
Press enter and go and grab a delicious cup of coffee because this will take a while
Note: Do not close this Command Prompt window until the verification is 100% complete. The scan results will be shown after this process is finished.
Technical information for nerds
The sfc /scannow command will scan all protected system files, and replace corrupted files with a cached copy that is located in a compressed folder at %WinDir%\System32\dllcache.
The %WinDir% placeholder represents the Windows operating system folder. For example, C:\Windows.
The time taken to complete this scan is different on every PC but usually can range from 20 minutes to an hour or more. If it solves your problem (which it has on over 50 client PCs to date) then please take a minute to drop a comment below or maybe buy something through our shop to say thanks.