Many people are looking for the cheapest renewal price for Kaspersky Internet Security. This product is their flagship one along with "Kaspersky Pure", having antivirus, firewall, antispyware, parental control, anti-spam, safe run and much more.
The PCRepairMan rates this as the best protection security package currently available, with fantastic detection rates and top stability.  Performance is very good and Windows 7 compatibility is seamless.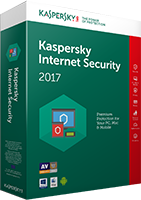 Because it is a fully fledged Internet Security package, Kaspersky charge quite a premium for purchase and renewal. My little-known method is to purchase an older Kaspersky software version that is fully licensed (look at the selection below) but download and install the latest version from here. It's a trial version but becomes full on activation.  Then, simply use the purchased licence key (from the old version) to activate the latest version when prompted – no need to install the old version at all!
I have written full instructions for what to do at renewal time too (12 months later) which you can read here:
How to register Kaspersy Internet Security with a new product key
Kaspersky free upgrade registration method
Because Kaspersky offers a free upgrade to this version from all previous ones from 2009 onwards, this is a completely legitimate method.  Importantly, you will save LOTS of money without needing any underhanded pirate serial codes that only last for a few weeks.  With Kaspersky prices being anything up to 85% cheaper in the deals below, it makes serious sense and you get the best security suite currently available.
CAVEAT – Check that you purchase the correct licence for the number of computers you are installing on, ie the 3-user licence is for up to 3 separate PCs where the 1-user licence will only allow use on 1 PC. Also check that the product you download is the same as the product you have purchased the older version of, eg "Kaspersky Internet Security" not "Kaspersky Pure" or "Kaspersky Antivirus"

Personally, I'd go for the internet security package rather than just the antivirus as there will be a very small difference in cost but there's a huge amount of extra functionality.
If you do use my method, please either drop a little donation in the tin, 'Tweet' or Facebook 'like' this article or just give me a link back to help others save some cash!
I sell hugely discounted antivirus packages in my software store that can be used with this method:
Click here for similar deals on Kaspersky Pure
Got Norton products instead? Checkout these:

Cheapest Norton Internet Security renewal or Cheapest Norton Antivirus renewal or Cheapest Norton 360 renewal