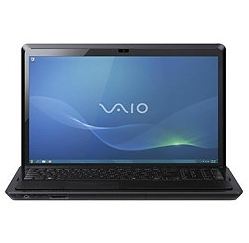 Our workshop has just had a brilliant new laptop to play with, the Sony VAIO CB3P1E/B and here is our review.
This Sony Vaio 15.5″ laptop is powered by the excellent Intel® Core™ i5-2430M processor which makes it a super-responsive machine. It has a large 6GB of memory and an equally capacious 640GB hard drive.
The screen is razor sharp and offers a very good experience from all viewing angles, something cheaper laptops can't boast. Couple this to the BluRay DVD which comes bundled with this laptop and you have a stunning film clarity that isn't bettered on any other machine we have seen. There's an HDMI output port that allows you to plug in a cable and transmit this film to any TV with an HDMI port. The laptop runs very quietly and makes it suitable for use as a DVD player when required.
USB 3.0 ports and Bluetooth allow decent connectivity and there's a multi-card reader built in. The card reader does the usual SD formats but also includes Sony's own memory stick Duo format.
Build quality is top-notch, we have come to expect nothing less from Sony. This laptop would compete with most other brands in the £1000 plus category but for UK buyers, it's currently on offer for £547.
The mouse touchpad is responsive and has the new-style click bar. The keyboard is a delight to use with the keys all being raised and nicely separated from each other. Use a keyboard like this and it's hard to go back to the squashed-together keys that other manufacturers offer. The keyboard also features ALC (Auto Luminance Control) to detect the brightness of the surrounding environment. The sensor turns the backlight on automatically at night or in a dimly lit environment (such as the depths of our workshop storage area).
The integrated HD Web camera offers clear, crisp and sharp video chat with minimal blurring. The colours appear natural and have good contrast. A "Web" button on the top of the laptop's keyboard allows you to load a mini-Linux browser and you can get online in seconds, ideal for surfing while in a hurry. That said, boot up times were very respectable with only the addition of an SSD drive that could shave a few seconds off.
The SONY VAIO CB3P1E comes with Windows 7 Home Premium 64 bit, meaning it can make full use of the generous 6GB of RAM. This led to some blistering speeds in our benchmark testing and the laptop coped with everything we threw at it including Adobe Photoshop (graphics) and Premiere (video) which it handled with ease. It handles most PC games with ease too, only being outshone by dedicated gaming PCs that cost 3 times or more what this Sony does.
Sony Vaio CB3P1E – our verdict
All in, this laptop is built to last and a pleasure to use. It's lightning quick, even with the Sony stuff that launches on startup. We generally take this software off and do our own updates but leaving it on has no noticeable performance impact if you prefer to be prompted. It makes full use of the large 6GB of DDR3 RAM which gives it the edge over lower-specced machines on memory hungry applications such as graphics and video rendering. The cheapest deal we found for UK buyers was at Tesco Direct, we'll keep this updated below if we find better prices.