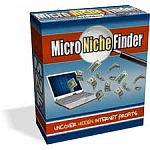 Micro Niche Finder is a very capable tool for drilling down into a niche market and finding relevant keywords. It is, without a doubt, the best software tool for keyword extraction currently available. That's not to say it can't be used with other tools and in my experience it works impeccably well alongside the free Google Insights.
I reviewed Micro Niche Finder 5 which, at time of writing, is a huge improvement over the MNF 4. It brings the product in line with the 'new' Google search style and fixes some long-standing bugs with waiting times and product responsiveness.
Micro Niche Finder allows you to drill down deeper than with any other keyword research tool currently available. It can check related keyword phrases, search Google Trends and more. You have the option to do broad or narrow searches and exact searches.  The only other competitor on a par with this is Market Samurai (reviewed here) coming a respectable second in our tests with similar but not exactly the same keywords harvested from Google.  I see this as an advantage of owning the 2 tools and I have run the output of one into the input of another on more than a few occasions where I needed extra insight into the keywords for a niche.
Even beginners can harness the power of MNF with easy to visualise layouts and good documentation. Having invested in Market Samurai a while back, I still use it on many occasions but find myself ultimately coming back to Micro Niche Finder again and again.
If you want to analyse your competitors' websites then you have the tools in MNF to do this. You can investigate their backlinks (incoming links), anchor texts and the search engine results page to determine their authority.
Want to check the profitability of your niche's longtail keywords? Easy.
Need to check how much the advertisers on Google Adwords will pay for a click on a keyword? Easy
The unique "Strength of Competitors" feature gives you all this and more.
So are there any downsides? Well, I can only say that the price initially put me off. $97 for a product that effectively still required manual input and a bit of thought sounded a bit steep. But when I realised that the amount of time I spent researching niches had been cut so dramatically, I thought it through again. I now use Micro Niche Finder and Market Samurai to find all my niches and if this product was twice the price it would still be worth it and definitely in my armoury.
PC RepairMan's Verdict:
Save yourself time and get the job done accurately with Micro Niche Finder
Get $20 off Micro Niche Finder by using coupon code "MNF20" at checkout