There's a new money-making tool in town and it goes by the name of Link Swiper.  It's currently $20 (price increases a little with each purchase) and is available by clicking this promotional link
SORRY THIS OFFER IS NOW CLOSED.
Link Swiper review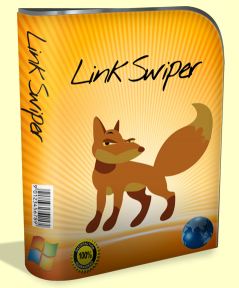 I've just bought this software and I have to say, I'm VERY impressed. You can watch the video for a better explanation but I bought a domain name and made the whole thing live in less than 30 minutes and then pumped out about 20 stealthy little CPA links in another 10 minutes. It does what it says and the developer offers free upgrades to the software.
The software was tested on a Dual Core Windows 7 PC with 2GB RAM. The target domain was registered with Dynadot and hosted on Hostgator shared hosting. Total setup time was 43 minutes from domain registration to submitting our first link.
What is CPA?
CPA (Cost Per Action) is an online advertising model.  The advertiser pays for each action. This may be any of the following:
A purchase
A form submission
An email address
A click through to a website
It's a good business model because it allows you to make a profit even if the visitor doesn't purchase anything (unlike eBay, Amazon etc).
So what's so good about Link Swiper?
You don't need content, you link to other sites that have great stories and then when the visitor closes that site your CPA offer opens on the same topic. It looks like it's their site that opened the link, this is very impressive in action.
There is a one-time offer that is definitely worth going for, it's another $17 but this is well worth it as it gives you a bit more stealth on the CPA link.
So what do I need to install it?
You need a self-hosted WordPress installation and a CPA offer, that's it, the software does all the link generating for you. It can be adapted for Amazon and eBay offers too as well as other CPA networks.
Hosting a WordPress installation can be cheap as chips if you use Hostgator or similar. They have tools that help you install WordPress in minutes so you can be up and running with your own WordPress site, Domain name and Link Swiper in less than an hour.
Verdict

Super-slick, fast and a great idea to diversify your Affiliate Marketing tactics while keeping your outlay low.  This software is another must-have tool in your armory, buy now before the price goes up.
Resources:
Hostgator – Cheap hosting starting from $1 a month
Dynadot – Cheap and easy domain purchase