Since I am getting a lot of questions on where Kaspersky Pure has gone and how to upgrade, I'll try to clarify a few things. Yes, the main Kaspersky.com website has now dropped Pure as a product, seemingly without notification. The localized websites (such as .co.uk etc) have followed too. It seems that Kaspersky Pure has been phased out in favour of 'Total Security'. There are a lot of Pure installation CDs out there so what to do?
OK, so here comes the terminology first:
KTS stands for Kaspersky Total Security
KIS stands for Kaspersky Internet Security
KAV stands for Kaspersky Anti-Virus
Changing from one installed product to another is called 'migrating'
If you have an active or expired Kaspersky PURE 2.0 or 3.0 license, you have special options of migrating to Kaspersky Total Security. You can also migrate to Kaspersky Total Security from Kaspersky Internet Security and Kaspersky Anti-Virus or vice-versa.
Who can't upgrade to Kaspersky Total Security?
Note that free migration to Kaspersky Total Security is not possible for the oldest versions of Pure. These were the original 'version 1' programs but are called:
Kaspersky PURE
Kaspersky PURE R2 (note that this is NOT the same as Kaspersky Pure 2.0)
They can't be upgraded because their activation codes are incompatible with Kaspersky Total Security.
Now we know what versions can't be upgraded, let's upgrade those that can…
Free upgrades to Total Security
Successful upgrading depends on the current status of your license:
If you have an active licence for Kaspersky PURE 2.0 or Kaspersky PURE 3.0, you can simply use your current activation code for migration (upgrading) to Kaspersky Total Security.
If your license for Kaspersky PURE 2.0 or Kaspersky PURE 3.0 has expired, you can visit my shop here to buy Total Security at a cheaper price than renewal, then install it which migrates the licence for you automatically.
Migrating the Pure licence key to Total security
If you have Kaspersky PURE 2.0 or Kaspersky PURE 3.0 installed on your computer, do the following to upgrade to Kaspersky Total Security:
Download the Total Security package here (opens in a new window for you). This is what you should see: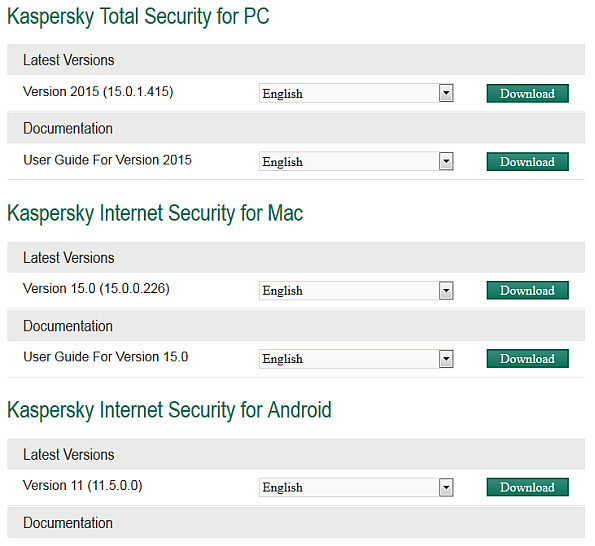 Grab the top one in my screenshot above, Total Security, and download it. Now we have 2 options, either installing over the top of Pure or removing Pure and installing your downloaded KTS. I have listed both below:
Option 1 – Install Kaspersky Total Security without removing Kaspersky PURE
When you install Kaspersky Total Security on top of Kaspersky PURE 2.0 or Kaspersky PURE 3.0, the following data is preserved:
License information
Quarantined objects
Product settings (config settings including Backup tasks)
Encrypted containers (including all data)
Password Manager databases for all user accounts. All data that was available when working with Password Manager, such as passwords to programs and accounts, identities, notes, etc.
Anti-Spam databases (if the Anti-Spam component was previously used)
Backup stores
This makes it the easier option for most users. If you are not experiencing any issues with Pure then do this. If you have slowdown issues, configuration problems or just want a fresh install (which is always nicer) then jump to Option 2 below.
Screenshots of the installation process when installing over Kaspersky Pure: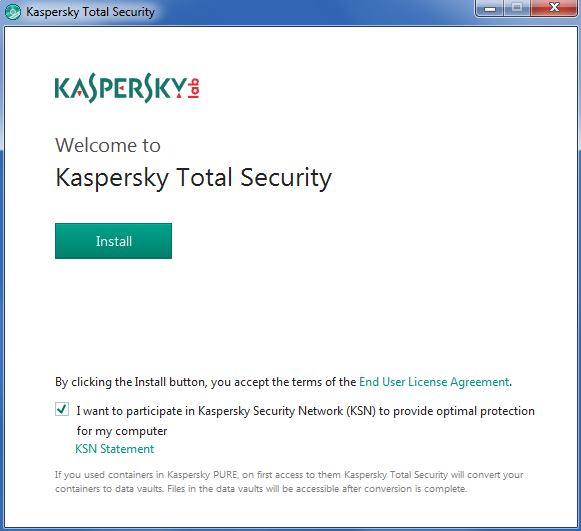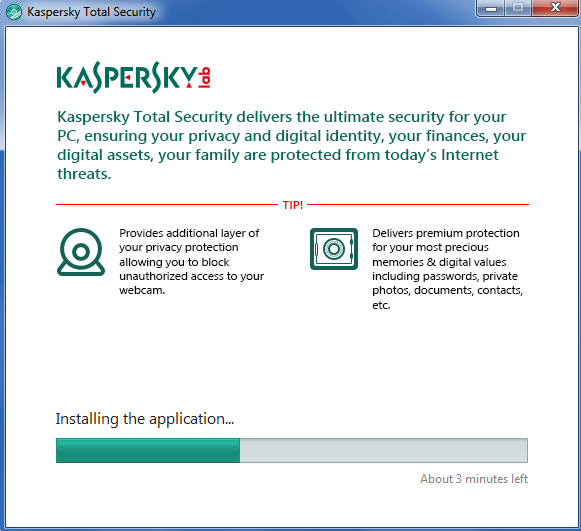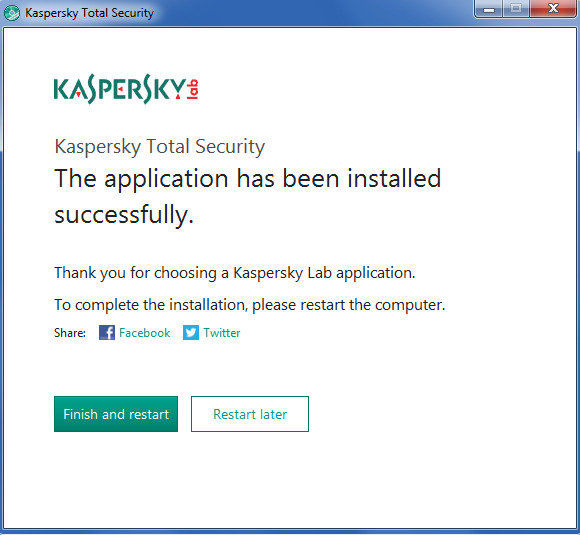 This took about 3 minutes for us to complete including the restart, just accept the defaults.
Option 2 – Install Kaspersky Total Security, removing Kaspersky PURE first

CAVEAT – You must have your licence key available which can be found on the card inside the product case.
CAVEAT 2 – You will lose any saved passwords in the Kaspersky Password Manager. Not everyone uses this and it won't affect other password managers such as LastPass, Roboform, Keepass etc.
CAVEAT 3 – You will lose any quarantined files, backup stores, encrypted containers and spam databases (if used) which are again specific to Kaspersky Pure
Fully uninstall Kaspersky Pure via your control panel.
Reboot your PC
Install Total Internet Security from the file you downloaded earlier or from a packaged CD
If you have never installed a program before, here is some help how to do it:
I hope that this helps answer your questions on installation, upgrading and compatibility. Kaspersky remains the most effective of all the antivirus and Internet security suites that we have tested in our workshop and Total Security is a worthy replacement for Pure.