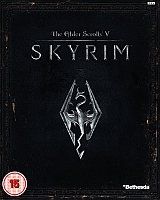 The Elder Scrolls V Skyrim has won the coveted top prize for 'Game of the year' at the Spike Video Game Awards in Los Angeles, California. It was only released on November 11, 2011 for Microsoft Windows, PlayStation 3 and Xbox 360 so it has really performed beyond the developers' expectations.
The Elder Scrolls V: Skyrim, to give it its full title,  won the highly desired "Best role-playing game" with the developers Bethesda Softworks being chosen as the studio of the year too. The  Spike Video Game Awards (SVGA anyone?) honours outstanding achievements solely inside the gaming industry.
Other winners this year include
Best shoot-em-up – Call of Duty: Modern Warfare 3
Best fighting game – Mortal Kombat
Best graphics – Uncharted 3: Drake's Deception
Best motion game. The Legend of Zelda: Skyward Sword
Best PC game – Portal 2
Hall of fame – Zelda (about time!)
Skyrim's storyline details the main character's efforts to defeat Alduin, the prophesised destroyer of the world, in the land of Skyrim.
The Elder Scrolls V: Skyrim is a role-playing video game developed by Bethesda Game Studios. It is the superb fifth installment in The Elder Scrolls action role playing video game series, following The Elder Scrolls IV: Oblivion.

Click here for the best prices on The Elder Scrolls V: Skyrim